Installment Loans in Wisconsin
Summary
Cost of Loans
Bi-Weekly or Semi-Monthly: 20 Scheduled Installment Payments
Monthly: 10 Scheduled Installment Payments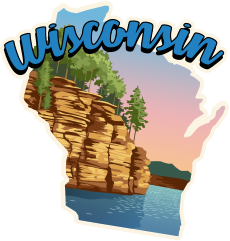 *First time customer maximum loan amount is $500.
For detailed information on the annual percentage rate (APR) and all other applicable terms to your loan governed in the state of Wisconsin, please refer to your loan agreement.
Online Installment Loans
FastWireCash is an online lender licensed in the state of Wisconsin. We provide assistance to customers who experience unanticipated expenses or if they just need some cash in a timely manner. The application process is easy and can be completed with the help of one of our customer support specialists. The approval process is fast as well and if approved you can expect to receive the funds on the next business day.
Wisconsin Installment Loans are repaid in installments over a specified time no longer than 10 months. FastWireCash encourages our customers to pay off their loan early to minimize the total cost of the loan. There are no penalties for paying off your loan in full and can be done at any time during the course of the loan.
You can contact us by phone, email or text message. We are here to help you with your short term cash needs.
Cost of Installment Loan
FastWireCash installment loans offer some of the best rates on the market and fully adhere to the state laws of Wisconsin. FastWireCash charges a fee of $9.50 per $100 on the outstanding principal balance for each installment in your payment schedule for loans under $1,000 and $8 per $100 on the outstanding principal if the loan is over $1,000.  The APR range will vary based on your loan amount, duration, pay frequency and history with us. Please see your loan agreement for the exact APR for your loan.
Early payments or paying your loan in full can be made at any time during the loan.
Making additional payments towards your principal or paying your loan off early can reduce the total cost of your loan. This installment loan is an expensive form of borrowing and is not intended to meet long-term financial needs.
Example Loan Payment Schedule
FastWireCash Installment Loans consist of approximately equal payments with the exception of the final payment which will vary slightly. Your specific loan payment schedule will be included in your loan agreement and will be accessible to view online at FastWireCash.com.
Please note that you do not have to complete this payment schedule. There are no prepayment penalties, so you can pay the loan off at any time. Below is an example of a payment schedule for a $500.00 loan to a first time customer with bi-weekly payments and an 10 month duration. Your payment schedule and APR may vary based upon your history with our company, loan duration, loan amount, and payment intervals.  A loan to a returning customer at the VIP Level will have a lower APR. Please review your loan agreement carefully to assure that you understand the terms and costs of your loan.
| Annual Percentage Rate | Finance Charge | Amount Financed | Total of Payments |
| --- | --- | --- | --- |
| The cost of your credit as a yearly rate | The dollar amount the credit will cost you | The amount of credit provided to you on your behalf | The amount you will have paid after you have made all payments as scheduled |
| 497.91% | $1556.99 | $500 | $2056.99 |
Payment Schedule
Payment Date
Payment Amount
12/19/2019
102.76
01/02/2020
102.76

| Payment Date | Payment Amount |
| --- | --- |
| 01/16/2020 | 102.76 |
| 01/30/2020 | 102.76 |
| 02/13/2020 | 102.76 |
| 02/27/2020 | 102.76 |
| 03/12/2020 | 102.76 |
| 03/12/2020 | 102.76 |
| 03/26/2020 | 102.76 |
| 04/09/2020 | 102.76 |
| 04/23/2020 | 102.76 |
| 05/07/2020 | 102.76 |
| 05/21/2020 | 102.76 |
| 06/04/2020 | 102.76 |
| 06/18/2020 | 102.76 |
| 07/02/2020 | 102.76 |
| 07/16/2020 | 102.76 |
| 07/30/2020 | 102.76 |
| 08/13/2020 | 102.76 |
| 08/27/2020 | 102.76 |
| 09/10/2020 | 104.55 |
State License
Cypress Creek Financial, LLC DBA FastWireCash is a proud licensed lender in the state of Wisconsin and the loan agreement is governed by applicable laws of your state.
Questions or complaints should be directed to Wisconsin's regulatory agency. Click here for contact information.
Have additional questions regarding the Installment Loan product in Wisconsin?
Visit our FAQs page or call our customer service team at 800-540-0504. You can also text us at 63591 or email  [email protected]. We will be happy to assist you.