Installment Loans in Missouri
Summary
Loan Term
~10 Months
Weekly: 40 Scheduled Installment Payments
Bi-Weekly or Semi-Monthly: 20 Scheduled Installment Payments
Monthly: 10 Scheduled Installment Payments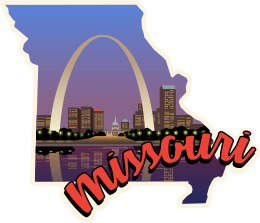 *First time customer maximum loan amount is $500.
For detailed information on the annual percentage rate (APR) and all other applicable terms to your loan governed in the state of Missouri, please refer to your loan agreement.
Get an Online Loan in Missouri
If you live in the state of Missouri and need a loan, FastWireCash is an easy, convenient option. FastWireCash is a licensed lender in the state of Missouri. We are a direct lender, not a lead generation company – which means, we lend you the cash directly and don't refer you to other lenders. Completing our online application takes just a few minutes, and if you need assistance, one of our friendly Customer Support Specialists is here to help.
Installment loans up to $1000 are offered in the state of Missouri. As a new customer of FastWireCash, the maximum amount you can borrow is $500. If you repay your loan early or make timely payments, you may be eligible for a higher loan amount the next time you need a loan from us. The loan is paid back in installments over approximately 10 months. FastWireCash advises our customers to pay off their loan as early as possible to minimize the total cost of the loan and there are no prepayment penalties.
Loans can be requested online, by phone, email or text message.
How Much Does Our Installment Loan Cost?
Our installment loans are priced competitively and fully adhere to the Missouri state laws. Interest will be charged on your outstanding principal balance with a maximum APR of 505%. The cost and APR of your specific loan is included on your loan agreement. This loan is an expensive form of credit and is not intended to meet long-term financial needs.
Example Loan Payment Schedule
Installment loans are paid in approximately equal payments throughout the course of the loan, with the exception of the final payment which will vary slightly. The specific payment schedule for your loan will be included in your loan agreement and will be accessible to you online at FastWireCash.com. We encourage you to pay your loan off early because there are no prepayment penalties. Below is an example of a payment schedule for a $500.00 loan to a first-time customer with bi-weekly payments and a 10-month duration.
Please note that your APR and payment schedule may vary based upon your history with our company, loan amount, loan duration, and payment frequency. A loan to a returning customer at the VIP Level will have a lower APR. Please review your loan agreement carefully to assure that you understand the terms and costs of your loan.
| Annual Percentage Rate | Finance Charge | Amount Financed | Total of Payments |
| --- | --- | --- | --- |
| The cost of your credit as a yearly rate | The dollar amount the credit will cost you | The amount of credit provided to you on your behalf | The amount you will have paid after you have made all payments as scheduled |
| 497.91% | $1556.99 | $500 | $2056.99 |
Payment Schedule
Payment Date
Payment Amount
10/02/2019
102.76
12/19/2019
102.76

| Payment Date | Payment Amount |
| --- | --- |
| 01/02/2020 | 102.76 |
| 01/16/2020 | 102.76 |
| 01/30/2020 | 102.76 |
| 02/27/2020 | 102.76 |
| 03/12/2020 | 102.76 |
| 03/26/2020 | 102.76 |
| 04/09/2020 | 102.76 |
| 04/23/2020 | 102.76 |
| 05/07/2020 | 102.76 |
| 05/21/2020 | 102.76 |
| 06/04/2020 | 102.76 |
| 06/18/2020 | 102.76 |
| 07/02/2020 | 102.76 |
| 07/16/2020 | 102.76 |
| 07/30/2020 | 102.76 |
| 08/13/2020 | 102.76 |
| 08/27/2020 | 102.76 |
| 09/10/2020 | 104.55 |
State License
Cypress Creek Financial, LLC DBA FastWireCash is a proud licensed lender in the state of Missouri and the loan agreement is governed by applicable laws of your state. Questions or concerns should be directed to the state's regulatory agency. Click here for contact information.
Have any more questions about Online Installment Loans in Missouri?
Check out our FAQs page or call our Customer Service Team at 800-540-0504. You can also text us at 63591 or email [email protected]. We will be happy to assist you.